WELCOME TO ASP, HOME OF QUALITY
AGRICULTURAL, VEGETATION MAINTENANCE &
GRASS CARE PARTS.
ASP is one of Australia's leading suppliers of wear resistant parts for the Grass Care & Agricultural Industries. ASP proudly distributes locally sourced and imported parts throughout
Australia & New Zealand
Check out our new 2023 Parts Catalogue which includes a range of new products:
Rake Tines, Tungsten Hard Faced Products (including Dura-Tung Rotary Hoe blades
& Mulcher Flails), S - Tines, Points, Sweeps, Speed Tiller Discs, Power Harrow Tines, Mulcher Flails, Hammers and a range of new Ride on Mower Blades!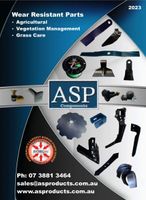 FOR EXISTING ASP CUSTOMERS, TO VIEW PRICING YOU MUST LOGIN TO YOUR ACCOUNT.
IF YOU DO NOT HAVE AN ONLINE ACCOUNT PLEASE CONTACT ASP ON 07 3881 3464 or
EMAIL accounts1@asproducts.com.au
FOR NON ACCOUNT HOLDERS, PLEASE EMAIL sales@asproducts.com.au FOR PRICING
OR CALL 07 3881 3464.
or visit our

store: http://www.ebaystores.com.au/asponlinemowerblades